The concept of an Alpha Widow from a Christian Red Pill perspective.
Readership: All
Length: 1,200 words
Reading Time: 7 minutes + 15:50 minute video
A Description of the Sanctified Marriage
Sanctification could be defined in many ways according to different perspectives. But from a subjective viewpoint, sanctification is the heart knowledge that God, and only God, can satisfy the longing in one's soul. Without this hard-won knowledge of one's self, or rather, being known by God, one will cling in silent, desperate hope to the idol of one's fancy, often unawares.
In the context of a marriage, sanctification is the heart knowledge that one's spouse, and only one's spouse, can satisfy one's longing for sex, romance, and intimacy.
In the case of an ideal marriage between two sexually pure virgins, the soul imprinting that is concomitant with sanctification occurs spontaneously, because neither person has ever had any comparable sexual experience in the past. These sexual and romantic experiences between husband and wife affect their state of mind and emotional disposition, creating subjective biases in favor of one's spouse. The person gains intense natural affections and certain emotional predilections towards one's spouse. It is even possible to transform one's value system, beliefs, and even one's personality in the process of achieving sanctification. All these effects serve to reinforce the marital bonding.
Thus, the passions and joys of the sexual union within the marriage naturally take precedence in the heart, mind, and soul of the person, thereby excluding any potential sexual encounter with another person. In fact, as sanctification sets in, other sexual opportunities appear less appealing than one's spouse.
The end effect is that the sanctified marriage relies on the power of God to remain in a continual state of humility, love, trust, and fulfillment.
A Description of the Unsanctified Marriage
A marriage that is not sanctified is characterized by one or both spouses who cling in silent, desperate hope to the romantic or sexual idol of one's fancy. This idol could be either a real person, or an ideal fantasy, e.g. pornography (for men), romance novels (for women), the Sinful Savior, or the Soul Mate.
In the case of the Alpha Widow syndrome, the idol is a real man with whom the woman shared an exceptionally powerful sexual or romantic relationship in the past, and the memories and feelings of those moments are forever imprinted on her heart, which is the natural result of sexual union as described in the first section.
In other words, Alpha Widowhood is a state of frustrated marital Sanctification, which eventually morphs into an alternate state of Defilement. The extemporaneous sanctification that began with the heart-pounding, mind-numbing, soul gripping, cherry-popping, F%#king by Chad Thunderc@ck cannot be fulfilled nor concluded through a proper life-long marriage, and this partial sanctification renders her defiled — not only in the eyes of any other man seeking union, but also within the sustenance of her own heart as the guilt and shame sets in.
As Vox writes in Alpha Game: Ghosts of the Alpha Widow (September 8, 2014),
"The simple and observable fact is that sexually experienced women find it harder to bond to their husbands and to live up to their marital commitments. This doesn't mean it is impossible for them to do either, only that it is a material challenge that has to be recognized and surmounted by both parties, particularly the wife."
The reason for this is because as a woman's N count goes up, the chances of becoming Alpha Widowed rise to the inevitable.
What Vox fails to mention is that the Alpha Widow syndrome is a pertinent allegory of defilement within a socio-sexual context.
As I wrote earlier in, What does it mean to be Defiled? (9 December 2018),
"Similar to being unclean, defilement also includes the spiritual aspect – that is, certain experiences affect one's state of mind, and emotional disposition, such that one becomes unfit or unable to have certain other experiences in life, including personal and spiritual maturation.

In other words, a person who is defiled cannot think objectively, and they have developed subjective biases. They possess certain emotional predilections and peculiar affections. The end effect is being more psychotic and less real, more emotional and less rational, more given over to sentiments and less so to education. Essentially, more feeelz, less faith.

God calls this state spiritual defilement.

Furthermore, I have personally heard true stories amounting to the fact that certain sexual experiences can transform one's value system, beliefs, and even one's personality!

Now we add to this understanding, the fact that Defilement is rather permanent."
So… once Chad puts his fork in the pie, there is no going back.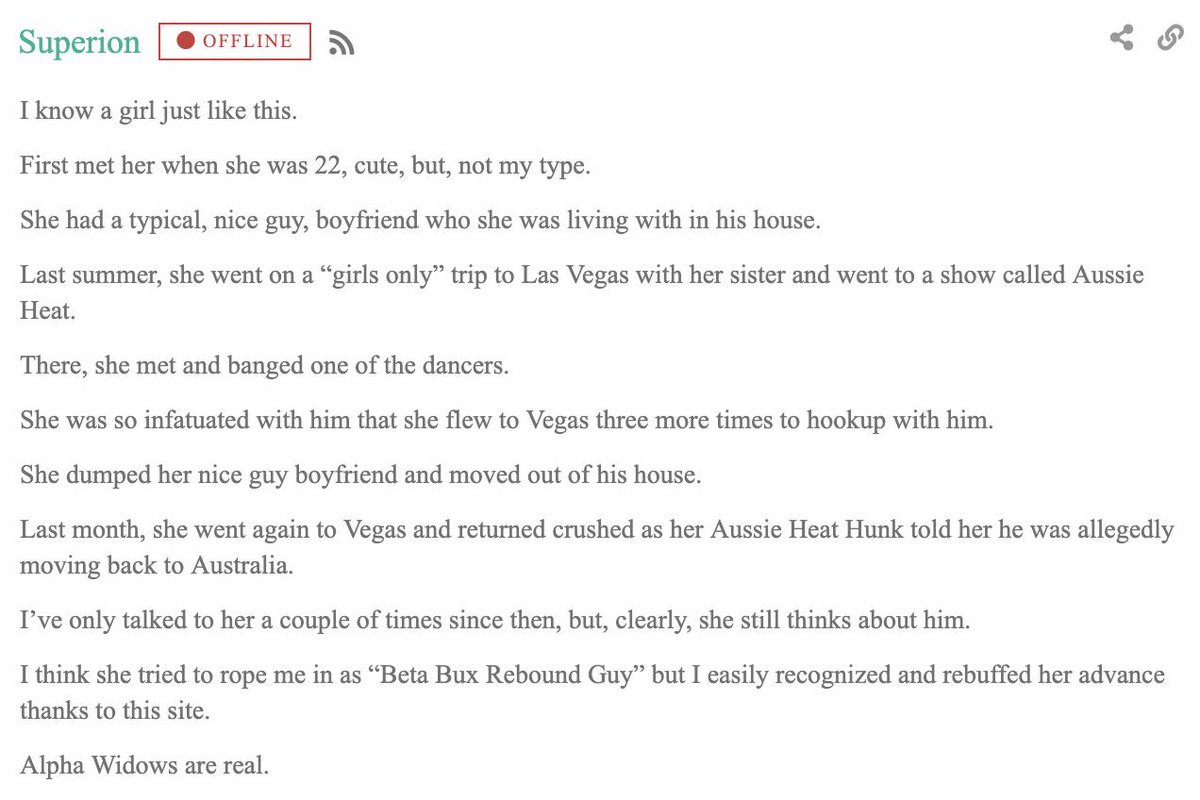 The Five Minute Rule
If the permanency of defilement isn't sobering enough, it will shiver your quiver to know how surprisingly quickly it can happen. For any one of a woman's man-toys, it doesn't take more than five minutes for defilement to set in!
The Five Minute Rule refers to the length of the robust process leading to the Alpha Widow state of defilement. (For a more complete description of the Five Minute Rule, click on the links to Chateau and Spawny's below.) Why not a Five Day Rule, or a Five Week Rule? It's because five minutes is all it takes to lodge a memory, conceive a child, form a soul tie, or possibly even create a blood covenant relationship through a sexual union.
If she chose a sex starved Beta, it might even be a One Minute Rule, except that a Beta would not imprint his memory on her heart as much as an Alpha who lasted a little longer.
Seriously, this is why St. Paul sternly warned us to avoid sexual immorality.
13 "Food is meant for the stomach and the stomach for food"—and God will destroy both one and the other. The body is not meant for sexual immorality, but for the Lord, and the Lord for the body. 14 And God raised the Lord and will also raise us up by his power. 15 Do you not know that your bodies are members of Christ? Shall I then take the members of Christ and make them members of a prostitute? Never! 16 Or do you not know that he who is joined to a prostitute becomes one body with her? For, as it is written, "The two will become one flesh." 17 But he who is joined to the Lord becomes one spirit with him. 18 Flee from sexual immorality. Every other sin a person commits is outside the body, but the sexually immoral person sins against his own body. 19 Or do you not know that your body is a temple of the Holy Spirit within you, whom you have from God? You are not your own, 20 for you were bought with a price. So glorify God in your body." ~ 1st Corinthians 6:13-20 (ESV)
Concluding Statements
The Alpha Widow syndrome, as it is called in the Manosphere, is a pertinent allegory of defilement within a socio-sexual context.
Unfortunately, real life examples of Alpha Widow defilement are ubiquitous. Only a cursory overview of the Manosphere will reveal how a woman's c@ck count destroys marital bonding and contentment, even years after the deeds are done.
And… that's after she may have had thousands of hot showers! (See Leviticus 15:16-24.)
Related
For those readers who may be unfamiliar with what an Alpha Widow is, some descriptions appear in the following posts.
In addition to this, there are two parables circulating the RP sphere which may offer succinct insights. Some of my readers will be familiar with these stories.