Women make very subtle hints. If you miss them, you're out.
Readership: All;
A few months ago, I wrote a List of Female IOI's (2020 March 30) which has since become one of the more popular posts this year. One of the verbal IOI's listed was Word Semantics — playing with fuzzy semantics to form suggestive euphemisms.
Men interpret word semantics as a test of his intelligence, level of experience, and social awareness. But usually, women are not that aware of word semantics as being a test. They're only looking to get involved with a guy, and when she makes the effort to hang out with him, things either pick up or they don't.
Since I wrote that post, I came across this one from Bored Panda: Obvious Hints From Girls That Guys Hilariously Failed To Notice (2017). The author, Greta Jaruševičiūtė, apparently invited readers to leave their own stories on the topic. I found most of these to be great examples of fuzzy semantics, and there are also a few examples of coded speech, loaded language, pointed suggestions, and suggestive innuendos.
In this post, I've picked out eight stories that make for good Red Pill discussion.
* * * 1 * * *
Friend was driving a group of us home after a night out and I was the last one.
Me: Ice cream sounds so good right now.
Him: Yeah I could go for some ice cream
Me: I have some at my house, want to come up for some?
Him: Sure!
Go upstairs and he actually wants ice cream so I sit super close to him on the couch and ask him if he wants anything else *hint hint*. He then spends 15 minutes asking for my opinion on the next car he should buy and then leaves.
More evidence for the claim that women always have sex on the brain. Maybe if she served the ice cream topless, she wouldn't have had such a cold response.
* * * 2 * * *
We went to eat and then a movie. After the movie was over we sat in the parking lot for hours. I then drove us back to her house so I could go home. Sat in her driveway till 1 am talking and making out.
She told me: "You're making this so hard."
Me: "Making what hard?"
Her: "To be good."
Didn't click. 30 minutes later she tells me a guy has never gotten her off. Didn't click that she was hinting. I literally said "challenge accepted" but went on talking and never made a move. It clicked the next day.
Still more evidence for the claim that women always have sex on the brain. It would be too humbling for her to ask.
* * * 3 * * *
There was this girl who worked behind the bar at my local that I got along with and for some time too. Stepping out for a smoke break, she goes on to say that her brother is gay and in a relationship.
Her: Why is it so easy for him and all I want is a boyfriend.
Me: Hope it's not contiguous (sic. contagious).
She was dating one of the guys working there a week later.
If the man doesn't pick up the signal, she's on to the next one. Time's a wasting.
* * * 4 * * *
When I was 23, I woke up in the middle of the night to two girls (one of whom I was dating) standing next to my bed. They had been drinking, so naturally I offered her friend my couch… In the morning I realized my mistake, and asked for a redo… No.
No redo's. Ever. You have to read her mind and be DTF on a minute's notice. But if you get the hang of how women are, it's not hard to read their minds. If she's giving you steady attention, and you're alone, there's a very good chance she's thinking about coitus. In this case, they didn't even need to be alone.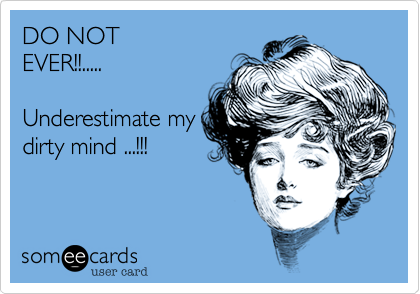 * * * 5 * * *
16 year-old me playing guitar (hears doorbell ring) open the door and girl from my history class is standing there.
Me: Hey! What's up?
Her: Just wanted to stop by and see what you're up to.
Me: Nothing, just playing guitar.
Her: Are your parents' home? Can I come in?
Me: Yeah, they won't be home for a few hours.
…cut to me playing guitar with her sitting so close to me that my arm keeps hitting her and messing me up…
Me: Uhhhh… Could you move over a bit?
She gets up and leaves.
I'll say it again. If she's giving you steady attention, and you're alone, there's a very good chance she's thinking about coitus. If you don't deliver on the spot, she'll be off to find one who will. Time's a wasting.
* * * 6 * * *
So one day I end up singing a special song I co-wrote with a friend in church. And afterwards this girl I barely know strikes up conversation. She says she likes the song (which most people were saying that day) and what not and she gives off signals that she's flirting but I don't return them because I still think she's my friend's girlfriend (because that's the unwritten law). Later after a Facebook search I discover I was wrong. Now things are forever awkward cos she thinks I'm not into her.
Women expect men to read their minds and know all the background story. The thing is, this is an unrealistic expectation. Only bad guys would be DTF under any circumstances, which may explain why hot chicks always seem to end up with bad guys. She may be a church girl, but nevertheless, if she doesn't wake up to this dynamic, she'll end up with a cad.
* * * 7 * * *
So far, all these case studies have described clueless men missing their chances to be a father. However, there are cases where it is the woman who ignorantly screws up the innuendo. Consider the following examples.
My now-husband and I used to work at a newspaper together many moons ago. He (city reporter), me (designer) and the MANAGING EDITOR were standing in the newsroom talking one day about some story. All of a sudden, he looks at my chest and goes, "It must be cold in here!" I followed his gaze. Yes, it was cold. I thought the ME would have a stroke. It took me about 15 more years to figure out he had the hots for me. July will be our five-year anniversary.
One can only wonder what she did in those 15 years before she settled down with this one. But I guarantee it didn't take her 15 years to figure out that she had (or didn't have) the hots for him.
* * * 8 * * *
Once I called my friend and asked him if he was going to the club that weekend. He answers with, "Why? You don't have a ride?"
Few weeks after, he already knows "I need a ride to the club" and I tell him I had a date but cut him off to go with him. Later that night he says, "Your date is there if you wanna go dance with him."
20 years later, including 18 years married to him he is still clueless of any hint. Took him 2 years to understand!
Maybe not if he knew she was a carousel rider. He's just the silent type who waited for his turn. The funny thing here is that she thinks he is clueless, but actually she is the one off the mark. Commenter Chris Doehla responds,
That's not a hint. That's more of a hint that you're not interested/unavailable. Why do girls think bringing up another guy ever helps? Why would it clue him in that you're interested in him if you're talking about some other dude, especially if you had a scheduled date with him? You schedule dates with guys you like, so he probably thought you were more interested in the guy you actually had a scheduled date for, especially if the pretense of the conversation is that he's just giving you a ride.
Some women are so focused on keeping their schedules (or inboxes) chock full of male entertainment, that they are unaware of how this is perceived by men.
Conclusions
Contrary to popular stereotypes, women always have sex on the brain, and men are naïve and altruistic. I've mentioned this before in previous posts. After reading a few of these word semantics, it seems obvious that it is generally true. Women are sharper than men when it comes to the sluice bait.
In most of these stories, the men never get it. But there are a few in which he does – but only after the fact.
This goes back to something I've said before. When a woman makes a strong advance by humbling herself sexually and opening her heart, it's like a once in a lifetime chance. If you don't kick things up a notch, and do it with gusto, she'll interpret this as a rejection of her ever-so-subtle signal, and she'll never come back. She'll go on to the next guy on her list. If she does come back, then she has already gone through the other guys on her list without finding any satisfying takers. But since the women who do this tend to be promiscuous, perhaps it is all for the best when righteous minded men miss out.
Related