Running it into the ground to set a new foundation.
Readership: Men;
Counter
adverb
In the wrong way; contrary to the right course; in the reverse or opposite direction.
Contrary; in opposition (usually preceded by runor go):to run counter to the rules.
adjective
Opposite; opposed; contrary.
noun
Something that is opposite or contrary to something else.
A blow delivered in receiving or parrying another blow, as in boxing.
A statement or action made to refute, oppose, or nullify another statement or action.
Sink
verb (used without object), sank or, often, sunk; sunk or sunk·en; sink·ing.
To displace part of the volume of a supporting substance or object and become totally or partially submerged or enveloped; fall or descend into or below the surface or to the bottom (often followed by in or into).
To fall, drop, or descend gradually to a lower level.
Yes, I'm inventing a new word for a new approach.
Sharkly's Divorce and the lackluster response from his church
Most readers are already familiar with fellow blogger Sharkly over at Laughing at Feminism.  You probably also know that he's been tied up in messy divorce proceedings with a very rebellious and disagreeable wife for about three years.
For a period of time, which I'll guess might have lasted a couple years, he carried an entirely reasonable expectation of his church to enforce a hedge of discipline around his marriage.  But instead of a strong response of solidarity, he only received a flurry of fake grins and guffaws, which served to smooth over their unresponsive laziness.  When Sharkly demanded certain leaders of said church to be obedient to the scriptures by enforcing church discipline, one guy lost his temper, and the other leaders started to avoid him.
Sharkly found that not only did he have to fight against his wayward wife's selfishness, but he also had to fight against the listless spiritual recalcitrance of his church.
Instead of languishing in the pain of this reprise, about three weeks ago, Sharkly resorted to a radical Plan B.  He opened a new blog, Whitewater Community Church, with the express purpose of exposing the scriptural inconsistencies of this church, and shaming certain members of his church for failing to provide a community of believers who would do the hard work of supporting the institution of marriage in this age of apostasy.
Sharkly announced the news of this bold move in his post, Help me put my boys' home back together (2020-4-30).
If you're interested in reading about it, click on the last two links above.  Sharkly has received the support of a few Manosphere bloggers in separate posts listed here.
Snippets of Advice for Sharkly
In addition to the above posts, Sharkly has received quite a lot of feedback from commenters.  Under Sharkly's post, there appears a plethora of wisdom from many different voices and perspectives.  I've collected a few of the star mouthpieces and compiled them here.
Nikolai admonished Sharkly to look within to find the problem.
"With all respect and kindness, you have a problem deep down that you need to address.  Nothing else can make a rich, handsome man fly across the country to meet and marry a low value woman, let alone put up with all the nonsense that followed.

Lawyer up, get it over with, and turn your attention inwards to figure out what the hell went wrong.

The church is the least of your problems."
I left my own ten cents.
"Sharkly, I've read the first two posts at your new site.  I'm amazed at the similarities between your marriage and my first marriage.  Sad to say, I don't believe there is any hope of "converting" your wife and resurrecting your marriage.  Although your expectations and demands may indeed be Biblical, it will only drive her further into rebellion.  She doesn't need discipline as much as she needs the opportunity to experience true sorrow and repentance over the error of her ways.  If she left you (instead of the other way around), and she wants a divorce, I would consider that to be an ugly blessing.  I urge you to think about how you can exit this catastrophe with a minimum amount of damage to you and your boys, and give her the freedom to resolve her issues on her own terms.
But more important than my opinion, you must decide for yourself what God wants you to do.
All the best~!"
Deti offered an excellent piece of advice.
"Your marriage cannot be salvaged.  Your marriage is over.  You cannot make your estranged wife come back to you.  You cannot make her be your wife.  She doesn't want to be your wife.  I don't think she's physically, mentally, emotionally or spiritually capable of being your wife, or any man's wife."

"For your sake, for theirs, you need to LET HER GO.  Get a lawyer, figure out what your rights and duties are, do what the lawyer advises, offer her a deal with a reasonable and fair property division and settlement, and get the divorce over with.  There is a time and purpose for everything under heaven, including a time to give up and to throw away (Ecclesiastes 3:6).  It's time to give her up, give this marriage up, end the marriage, and let her go.

Know that the reason the marriage cannot be saved is not because of you, but is because of her.  You've done all you could possibly do to save it.  You can leave with a clear conscience knowing that.  But what you're doing now is not saving your marriage.  What you're doing now is obsessing you, consuming you, and will ultimately destroy you.  And I am concerned about what all of this is doing to you.

"But if the unbeliever departs, let him depart; a brother or a sister is not under bondage in such cases. But God has called us to peace." ~ 1st Corinthians 7:15 (NKJV)

"You must treat her as an unbeliever.  She is acting as an unbeliever.  She did not keep her marriage vows.  She had emotional affairs.  Sharkly, it's very very likely she had physical affairs too.  There's a whole, whole lot of smoke there: Talking to past lovers.  Friending them on social media.  Having explicit conversations.  Her receiving dick pics (and her probably sending them explicit photos of herself).  These things suggest a woman who simply does not want to be, and cannot be, married to you.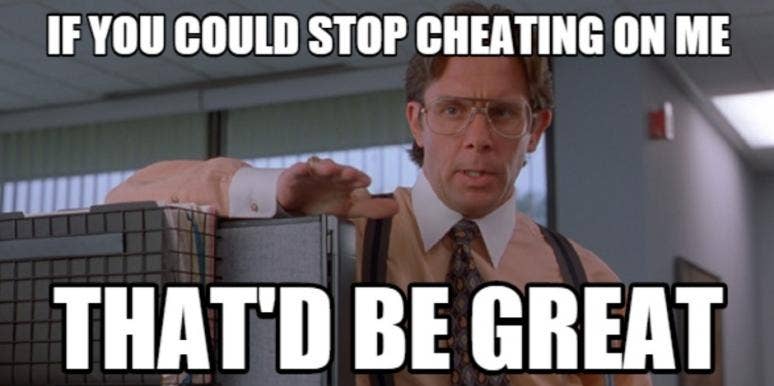 I urge you to let this go.  Let her go.  It's over.  It cannot be fixed, repaired, or salvaged.  Do it for your sake, and for the sake of your sons.  Let your sons see a man who loved God and tried.  Let your sons see a man who obeyed God and who gave it his best shot.  But also, let them see a man who understood and faced reality.  Let them see a man who knew when it was time to cut his losses.  Let them see a man who was able to let go, and then was able to bounce back and rebuild his life.

Because that, Sharkly, is what your boys need now.  They need an end to the strife.  They need to see a man, you, their father, able to act wisely, prudently, and decisively in his own best interests.  Because, Sharkly, the time will come when your boys will have to do that for themselves, and they will be able to look to you as the example.

And then, when you have let her go, you need to do what Nikolai said up there and look inward.

There is no way a wealthy, handsome man like yourself should have been flying across the country to meet women on online dating sites, even Christian sites.  A man like you should have been able to find and attract women in your own locale or close to it.  A man like you would have been, or should have been, EXTREMELY attractive to women all around you.  Either you didn't see it or you were doing something to repel women or women were attracted to you and you failed to act.

Something in you wasn't working correctly when you met, dated, courted, and married your wife.  You didn't choose wisely.  You were unable to see that she wasn't right for you.  Or you did see it and you ignored it.  You either didn't see the red flags because you didn't know enough to identify them, or you saw them and ignored them.
And it's probably not your fault.  I had much the same upbringing as you did, though I was much more limited in my resources and ability to find suitable women.  Look, man: Everyone lied to you growing up.  There's no getting around that.  Your parents, your teachers, civic leaders, the men you knew, the adults around you – they all lied to you.  Girls lied to you.  Everyone lied to you.  You didn't pick it up like most others did.  You got used and taken advantage of.

But now you know.  Now you understand it.  Now you understand how women work.  Now you can see the red flags.  You know now to avoid them.

Use that knowledge to rebuild your life, a life without your wife.  End this idea of changing everyone around you and getting them to help your wife.  End this idea of changing your wife.  Abandon this idea of holding her, other men, other women, and a church, accountable.  Forget that.  There are no systemic solutions.  There are only individual ones.  Stop playing Don Quixote and tilting at windmills.  Stop entertaining this foolish notion that you can fix the system.  You can't.  You cannot change others.  You can change only yourself.  Direct all this energy to changing YOURSELF and teaching your sons what the adults in your life didn't teach you or that you didn't learn.  Devote your energies to your sons, who really need to learn what you've learned.

You learned it the hard way.  Help your sons learn it the easier way.  Help them so hopefully they will not go through what you went through.  Help them so they will not suffer as you did.  You cannot help your wife and you cannot save your marriage.  Let them go.  Save what can be saved: Yourself, your sons, your sanity, and your future.

Let them go."

Your boys' home as it exists now cannot be put back together.  Your wife destroyed it to the point that not one stone remains standing.  The best that can be done now is to give them a different home, one you have built yourself, and one that works according to biblical principles and Red Pill truths.

I can't, and won't, help you reassemble a home built on the folly of returning a mentally ill, spiritually blind wife to you.  That's a foundation of sand.  I will help you build a new home on the rock of the Red Pill and on the Rock.  The latter is all that can be done now."
Deti's words are good encouragement for any man who is going through the wringer.
Contrary to Deti's words of resolute resignation, Bee123456 expressed hope that Sharkly's approach might bring some compensation.
"Three reasons why this could work:

Sharkly saw noticeable improvement in his wife when a counseling pastor held her feet to the fire.  If he could find another pastor to do that, then more improvement could be had.
Sharkly found a counselor that has a 90% success rate treating intimacy anorexia.  Of course both parties have to be willing and that is why I do say the odds are still very slim for success.  But if a strong, firm pastor insisted that she go to this counselor, maybe she would go with some openness.
Most of us have not seen this done before, a wrongly divorced guy rallying commenters to shame a church and its leaders.  Before the internet and inexpensive websites, this was not doable.  Maybe this will work.

Even if this does not work for Sharkly, it does seem like a good idea to expose the foolishness of the Seeker Friendly church movement; "come as you are", "everyone is welcome", women pastors so we can be relate-able, etc.

Thinking out loud here, and this is where I and Sharkly could be totally wrong; the Scripture you shared from 1 Corinthians 7 says to let the unbelieving spouse go in peace.  Maybe fighting against her leaving and the public shaming of her enablers is not letting go in peace."
That last sentence poses a question that only Sharkly can answer, as he must be the one who counts the costs… and the rewards.
Feeriker wrote,
"Finding a counseling pastor, or even a professional Christian counselor who isn't pussywhipped/cunt-worshiping and who will hold THE WIFE accountable for her behavior within the marriage is nigh on impossible today.  Sharkly might very well have found the last of a dying breed in the pastor who successfully got his wife started on the right path.  If so, that's a tragic and horrifying indictment on the state of both the church and the Christian Counseling profession.

Beyond that, my own experience of having walked in shoes very similar to Sharky's leads me to endorse Deti's and Nikolai's conclusions, although certainly without enthusiasm.  I, too, resisted that conclusion and fought tooth and nail to salvage my first marriage, but ultimately realized that it was impossible.  It takes two to make a marriage work, but only one to destroy it.  When one half makes it clear that they are determined that the marriage is over, it's over."

"…while I might be pessimistic about saving Sharkly's marriage, I am wholeheartedly on board with exposing, shaming, and, if they persist in the error of their ways, hopefully helping to precipitate events that will destroy Whitewater Community "Church" and others just like it.  These churchian organizations are a cancer on the Body of Christ!"
Blackjack also had some very reasonable arguments which essentially agreed with Nikolai and Deti.
Swanny River added,
"If the likely divorce comes to pass next month, then Sharkly's sons need prayer for knowing to reject their mother, follow God, and yet to somehow still honor her.
I don't know what honoring a woman like that would look like, but if they are to follow the Lord, then they'll need great maturity to do that, and yet to reject all of her dark and sinful manipulations.  Maybe a new wife and red pill home will be the incubator for his sons to grow that way, but if not, they need our prayers, which you are probably already doing since you are reading and commenting here.
Your willingness to go to war was blessed by God, and Sharkly had a later stage intervention in his marriage than yours perhaps, so I can see your advice as being consistent with what you (and Feeriker and Nikolai) have learned.  However, I see Sharkly being faithful also, even though it is from a weak position, tactically speaking, compared with when you drew the line for your wife.  But he has written before, and maybe you didn't see it, but if the divorce is made final, then that is when he plans to apply 1st Corinthians 7."
Yes, it is a war, and the stakes are high.  Too many men have been laundered and hung to dry.
If a man doesn't stand up for his family, home and livelihood, there is no hope for the future.
What is the sum value of prolonging the fight?
Deti and Nikolai are urging Sharkly to gracefully bow out, do some introspection, and start afresh.  This is good standard advice for the man who is financially destitute, spiritually ruined and emotionally devastated by the breakup — the man who needs to put himself back together again before he can do anything else in life.
But I don't get the impression that Sharkly is a broken man, so I won't give the same advice.  Not just yet anyway, and for a reason that no one brought up in the comments.
If a man has the conviction, the fortitude, and the financial security to kick back, then he should.  If every man who was cucked and frivolously divorced came back with a sucker punch from ћәll, then the converged infidels would quickly fold, and the dawn of a new era shall appear.
12 And we urge you, brethren, to recognize those who labor among you, and are over you in the Lord and admonish you, 13 and to esteem them very highly in love for their work's sake.  Be at peace among yourselves.
14 Now we exhort you, brethren, warn those who are unruly, comfort the fainthearted, uphold the weak, be patient with all.  15 See that no one renders evil for evil to anyone, but always pursue what is good both for yourselves and for all.
16 Rejoice always, 17 pray without ceasing, 18 in everything give thanks; for this is the will of God in Christ Jesus for you.
19 Do not quench the Spirit.  20 Do not despise prophecies.  21 Test all things; hold fast what is good.  22 Abstain from every form of evil.
23 Now may the God of peace Himself sanctify you completely; and may your whole spirit, soul, and body be preserved blameless at the coming of our Lord Jesus Christ.  24 He who calls you is faithful, who also will do it." ~ 1st Thessalonians 5:12-24 (NKJV)
If wimmin want to play dirty, there is no reason why men should sit quietly and do nothing, especially for the sake of "peace" when there is no peace.  Men should take right action for a noble purpose.
Declare a war of attrition.  Let's see who goes under first.
Don't do it out of revenge or spite.  Do it out of conviction.  Do it because it's courageous.  Do it because it's the right thing to do.  Do it to honor the institution of marriage.  Do it to glorify God.  Do it for the boys!!!
Concluding Statements
What Sharkly is doing is ugly as hell, but someone has to do it.  Someone has to sound the charge.  Someone has to send a clear message that…
The institution of marriage and family is not to be toyed with.
F*cking around is unacceptable behavior for those who profess Christ.
Feminist broads are of the devil.
I won't tell Sharkly to sit down and shut up.  No, I will urge him on!
Whether she ever comes back, or s1uts off forever, it is not in your hands.  But you might have some control over how much she can steal and destroy.  Either way, let her not attack nor destroy your marriage without full awareness of her actions, accompanied by remorse and regrets.  Perhaps the Lord might then use this tribulation as a call to her repentance.
According to a recent update from Sharkly, his efforts have already began having an impact!
Related