Not only marriage, but also parenting is for the elite.
Readership: All; Parents; Those who hope to be parents;
Introduction
Dalrock once made a very strong argument that marriage is for the elite, but that it shouldn't be.
In the latter, Dalrock wrote,
"Most women can't attract an exceptional man.  All of those women who are married to the poor excuses for men that we look down on?  They are every bit the losers their husbands are!  If they had better options they would have taken them.  Even if a woman had better options but chose a poor slob for a husband, this generally tells us the woman was gifted with attractiveness but blew it due to being below average in wisdom.  Granted there will be a handful of true exceptions, but these aren't the rule.

So when we look down on unexceptional men as unworthy, we are implicitly looking down on the loser women who can't do any better.  But as Romans 12:10 reminds us, this isn't a Christian way of looking at things.  It also sets marriage up as something only for elite men and women.  For if we take the non-elite men out of the marriage market, who will their counterpart women marry?"
That's the current conundrum that few want to face, and it's true.
I'll take this assertion a step further.  Not only is marriage reserved for the elite, but also parenting – but it shouldn't be.
Parenting is for the Elite
The common belief is that raising children "properly" requires parents to have every amenity imaginable to be fully accessible to their children — the best schools, designer clothes, money to invest in special hobbies and interests, such as taking private lessons in foreign language, or piano or violin lessons.  Anything less than this would be "depriving your children" of what is presumed to be a "full life".
This attitude reeks of materialistic arrogance.  Why should we listen to such people about how to raise our children?
In times past, these things were considered luxuries, but now, they are necessities.  They are considered necessities, not because children cannot become mature capable adults without these things, but because parents want their children to be the best, or at least, better than their peers at school.  They don't want any other parent or child to look down on their child, because that would create negative Feeelz.
But you know, that's just how life is.  Even in a "perfect" socialist country like China or North Korea, there are still class differences, except it is not determined by how hardworking, or skillful, or business saavy your father is, but by whether he is an official within the Communist party.
Because of the Jones', the average couple won't consider having children until they have everything else settled in place, and also have a few years to enjoy it all for themselves –without any children.  But all too often, this expectation would put a couple past the wife's fertility window.
To be realistic, the average person is not elite, and so it is unreasonable for the average couple to postpone having children until such-and-such a goal is met.  Furthermore, it is uncharitable to expect them to follow the life script of the upper class when their lower or even middle-class budget prevents them from obtaining all the exquisite trimmings.
Furthermore, the children themselves don't really care about money that much.  What they want is a stable, secure, love-filled home that has both a mother and a father present.
The Elite are Parents
These observations are not just idle preponderances of the fears and wishful thoughts of others.  I have been an educator for some time, and I'm also a parent, so I am exposed to this crowd on a continual basis.  I have seen these expectations play out for decades.
The difference between the people who are married with children and those who aren't is quite noticeable.  Whenever we have a parent-teacher meeting, I always know who the parents are just by looking at them.  The parents are very well-dressed, and they have an air of confidence and dignity.  Those who are not parents look common and shabby in comparison.  At certain gatherings, this vast chasm is astounding.
The fathers are mostly professional, dignified men — calm, quiet observers of their children's progress.  Many of them can be seen driving their children to school in a newer model, sport-performance car, which is usually either black or white in color.  I shouldn't need to mention, only elite men have the money and leisure to drive their children to school in a Lexus or Benz.
Occasionally there's a working man who has a great physique and a lot of charisma.  These men all have Frame, and they don't take any $*** from people.
And the mothers!  They are tall, thin, always well-dressed and meticulously groomed, many of them have long hair, and the ones who don't are cute as a button.  They have a butt on their @ss — the natural result of the regular sexercise necessary for impregnation.  Mammary glands that point to the far recesses of the heavens — providing nutritional sustenance to the babes in their care.
I can't help myself from noticing.
I hardly ever see any parent, dirty and harried from a long, tough day's work, come in driving an old beat up Ford to pick up their child.  The children of those parents always take the bus.
The point is, only the most excellent specimens of humanity are reproducing.  From an evo-psych viewpoint, this may be all for the betterment of the race.
Anyway you have it, it seems that you really need both marriage and children to get into this group.  Of course, the prerequisite for both is to be elite.  Of course, this is not a Christian view, but it is commonly perceived as the (expected) Christian norm.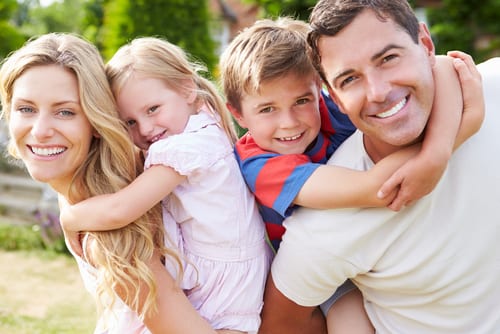 Conclusions
We tend to look at those married couples who are elite, as I described above, and think that every Christian family should be like theirs.
We are happy to see those elite couples getting married and having children, but we think it unfitting or even embarrassing for those of humbler means.
But this kind of attitude denies less well-heeled families the glory and honor of being a parent.
Granted, raising children isn't cheap, but the joys and blessings of being a parent should not be reserved for the elite only, nor should they be excluded from unexceptional Christian couples.
Related